Simiolus is an English-language journal devoted to the history of Dutch and Flemish art of the fifteenth to seventeenth centuries, with occasional forays into more recent periods and other schools. Founded in 1966 as an outlet for art history students at the University of Utrecht, it has grown to become an internationally recognized journal of record in its field, publishing contributions by many renowned scholars and promising young art historians.
Simiolus has a broad range, featuring articles on iconography and iconology, art theory and historiography, the history of the art market and the history of collecting. Many of them have become classics of their kind.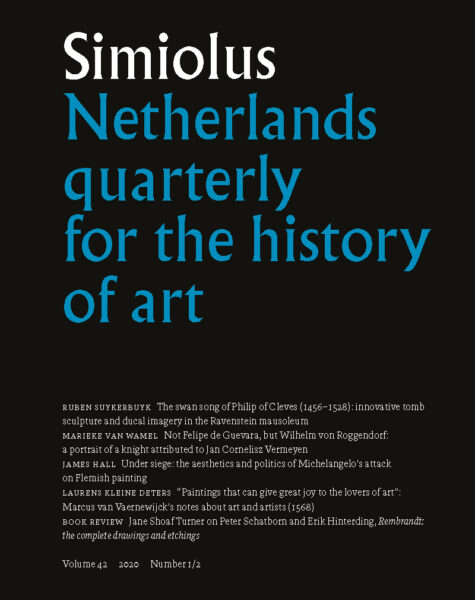 Editors
Bart Cornelis (The National Gallery, London)
Daan van Heesch (Royal Library of Belgium, Brussels)
Laurens Kleine Deters (RKD, The Hague)
Ruben Suykerbuyk (Museum Boijmans van Beuningen, Rotterdam)
Louis van Tilborgh (Van Gogh Museum, Amsterdam)
English editor: Michael Hoyle (Haarlem)


Simiolus is published by the Stichting Nederlandse Kunsthistorische Publicaties.
From vol. 41 (2019) onward we have received a generous subsidy from the De Gijselaar-Hintzenfonds, and the Fondation Custodia has similarly begun to contribute to the cost of publication of Simiolus beginning with vol. 43 (2021).
Board members: Anita Hopmans (Secretary), RKD, The Hague; Victor Schmidt (Treasurer), Utrecht University; Peter Hecht (Member), Utrecht University; Ruben Suykerbuyk (Member), Museum Boijmans van Beuningen, Rotterdam